FUJI EUROPE CORPORATION sees acceleration in innovation for autonomous robotics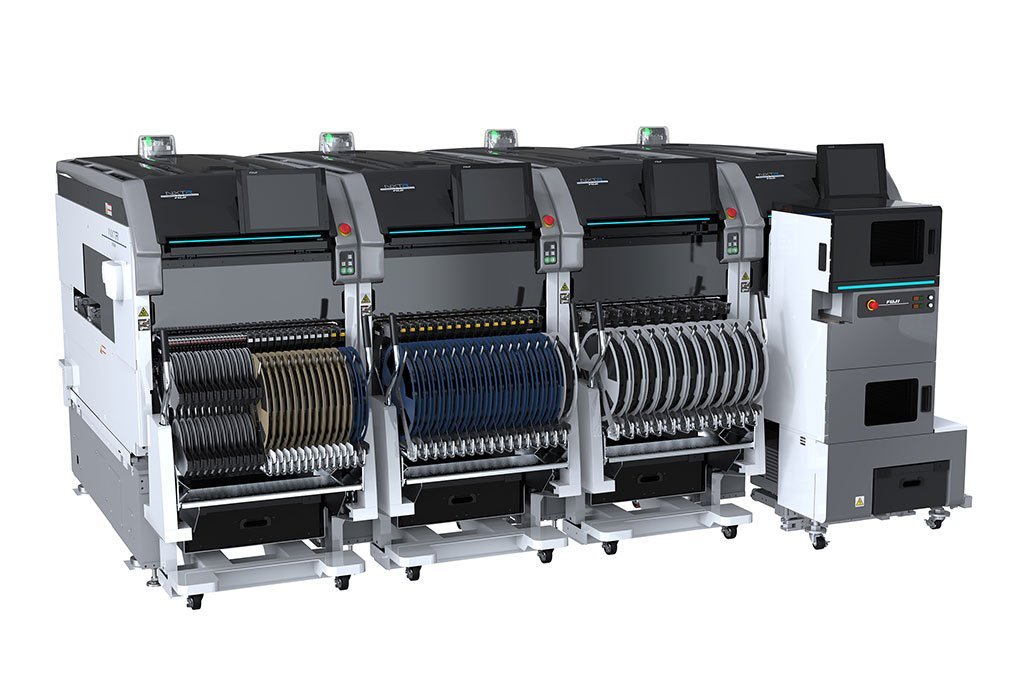 FUJI pushes robot development worldwide and participates in fund – German subsidiary promotes automation with "NXTR" placement platform
Kelsterbach, 5th March 2021 – Digitalization in industry has made a strong leap – partly due to the pandemic. In 2021, companies trust artificial intelligence and robotics more and more. FUJI CORPORATION also sees great potential in accelerating innovation for autonomous robotics and is therefore participating in the Smart Innovation Fund (SWIF) through its US subsidiary. The German subsidiary FUJI EUROPE CORPORATION (www.fuji-euro.de ) supports the increasing automation of assembly processes through the NXTR smart factory platform.
FUJI CORPORATION develops technologies that involve advanced sensing, communication, electricity and other infrastructures. The global company's robot development goes beyond industrial robotics. For example, FUJI CORPORATION is also pushing ahead with the development of autonomous transport robots for the logistics sector.
Innovation leader for autonomous robotics
For example, the US subsidiary FUJI AMERICA CORPORATION recently joined the Smart World Innovation Fund (SWIF), a partnership of leading global technology companies. Motus Ventures' initiative sees its mission in accelerating innovation for autonomous robotics. The goal is a future where robots are part of everyday life.

Motus Ventures is a early-stage venture capital fund and business accelerator focused on AI, robotics and IoT. The company operates at the intersection of industries and technologies that are strategic to the future of modern civilization, such as industrial manufacturing, transportation, agriculture and telecommunications. In addition to investing in early-stage companies, Motus Ventures also supports spin-outs of established, technology-driven companies that are at the forefront of disruptive innovation. Motus Ventures works together with academic institutes and research facilities for this purpose.
Self-optimized production through intelligent automation
FUJI EUROPE CORPORATION GmbH, an internationally active specialist for electronics assembly machines, is also pushing autonomous processes. With the NXTR smart factory platform, the German branch of FUJI CORPORATION offers a solution for fast automation and digitalization in electronics manufacturing.
Sascha Frieling, Manager Technology at FUJI EUROPE CORPORATION GmbH, explains: "Our goal is to increase the efficiency of the work performed by machines and systems and to relieve the workers. The NXTR scalable placement platform is therefore designed to free operators from repetitive tasks – while maximizing quality and productivity."
The NXTR follows the "3 Zero" strategy: zero placement errors, zero machine operators, zero machine stops. The Smart Factory platform is being successively expanded with new expansion stages that, for example, further optimize feeders in use to enable the best possible throughput.
Sascha Frieling says: "Our Smart Factory platform NXTR-S is in constant development and our goal is to modify it into the NXTR-A – which means an automated solution with Smart Loader. With this, we are taking further important steps towards optimizing production preparation and maintenance processes as well as automating manual placement assembly processes in terms of full networking and self-optimized production."
/wp-content/uploads/2021/03/FUJI_NXTR_S.jpg
687
1030
Winter_Agentur
/wp-content/uploads/2020/11/FJS2_SE_C2_RGB_V2.svg
Winter_Agentur
2021-03-05 12:17:02
2021-03-05 12:19:39
FUJI EUROPE CORPORATION sees acceleration in innovation for autonomous robotics