KATEK chooses Smart Factory platform NXTR-S from FUJI EUROPE CORPORATION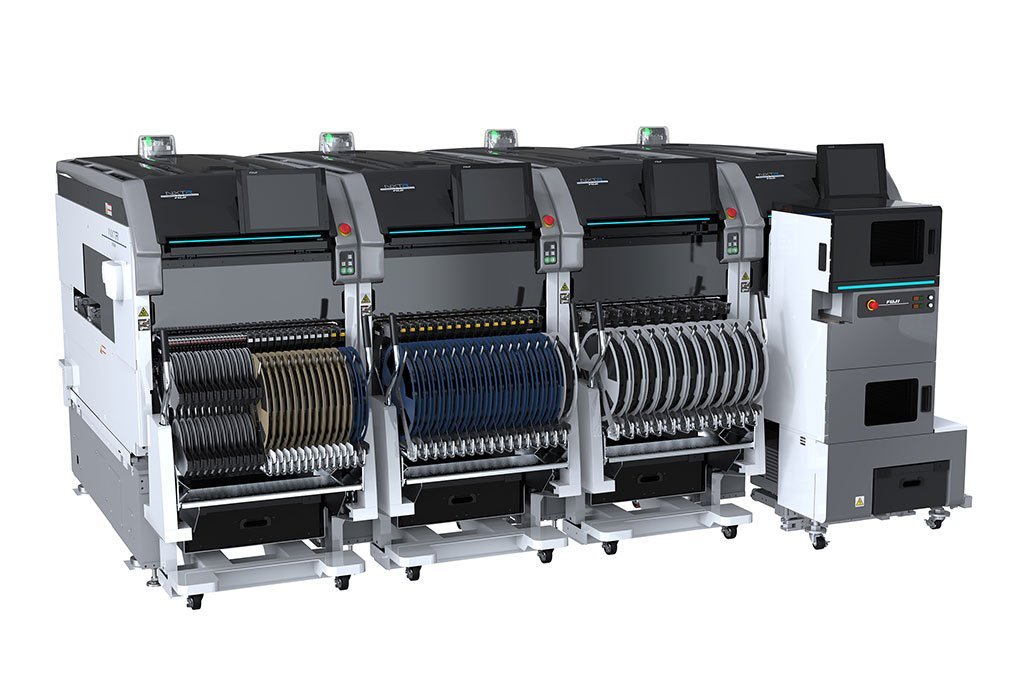 Electronics service provider aims for best possible throughput and high quality through optimized processes
Kelsterbach, March 9, 2021 – The EMS service provider KATEK GmbH has chosen to implement the NXTR-S smart factory platform from FUJI EUROPE CORPORATION GmbH (www.fuji-euro.de) at its Grassau site. FUJI is an internationally active specialist for electronics placement machines and offers with NXTR a platform that serves the step-by-step automation and digitalization in electronics manufacturing. NXTR-S aims to optimize the feeders already in use and is the basis for the best possible throughput. By using the smart factory solution, KATEK is focusing on high productivity and quality through optimized and digitized processes.
KATEK GmbH is one of the largest electronics service providers (EMS) in Germany. At the production sites in Grassau and Györ (Hungary), highly automated large-scale production orders, among other things, can be carried out on the basis of all common certifications. The company relies on process automation in various areas for the benefit of efficiency and high quality. For this reason, KATEK GmbH has decided to install the NXTR-S smart factory platform from FUJI EUROPE CORPORATION at its Grassau site.
Designed by FUJI as an evolution of the proven NXT series (scalable placement platform), the NXTR is designed to free operators from repetitive tasks – while maximizing quality and productivity. The NXTR follows the "3 Zero" strategy: zero placement errors, zero machine operators, zero machine stops.
High savings potential through optimization of existing feeders
The NXTR-S is the first expansion stage of the Smart Factory platform. It relies on new Multi Feeder Units that facilitate and optimize feeder operation. The Manual Mode uses the feeders that are currently already in use at customers of FUJI EUROPE CORPORATION GmbH. This has the advantage that no generation change of feeders is required, resulting in a high savings potential.
In addition to the unique features that mark the FUJI products NXTR-S and also NXTIII – such as the one-side operation, exchangeable heads and much more – the following features in particular tipped the scales in favor of the NXTR-S:
Increase in productivity due to better exchangeable MFU 52
Number of feeder slots on NXTR-S is higher than on NXTIII
Larger PCB size
Compatibility of existing NXTIII feeder
Part presence control and touchdown sensor
Expectation of higher quality and more productivity on NXTR-S compared to NXTIII
LCU features (remote control, self-diagnostic function, response to network problems, and more)
The solution will be installed at KATEK in spring 2021.
"Our Smart Factory platform NXTR-S is in constant development and our goal is to modify it to NXTR-A – meaning an automated solution with Smart Loader – within the next two years. In this way, we are taking further important steps towards the optimization of production preparation and maintenance processes as well as the automation of manual assembly processes in terms of comprehensive networking and self-optimized production," explains Sascha Frieling, Manager Technology at FUJI EUROPE CORPORATION GmbH.
/wp-content/uploads/2021/03/FUJI_NXTR_S.jpg
687
1030
Winter_Agentur
/wp-content/uploads/2020/11/FJS2_SE_C2_RGB_V2.svg
Winter_Agentur
2021-03-09 10:37:23
2021-09-07 17:42:04
KATEK chooses Smart Factory platform NXTR-S from FUJI EUROPE CORPORATION