Increase output with high quality and cost reduction – transparent and measurable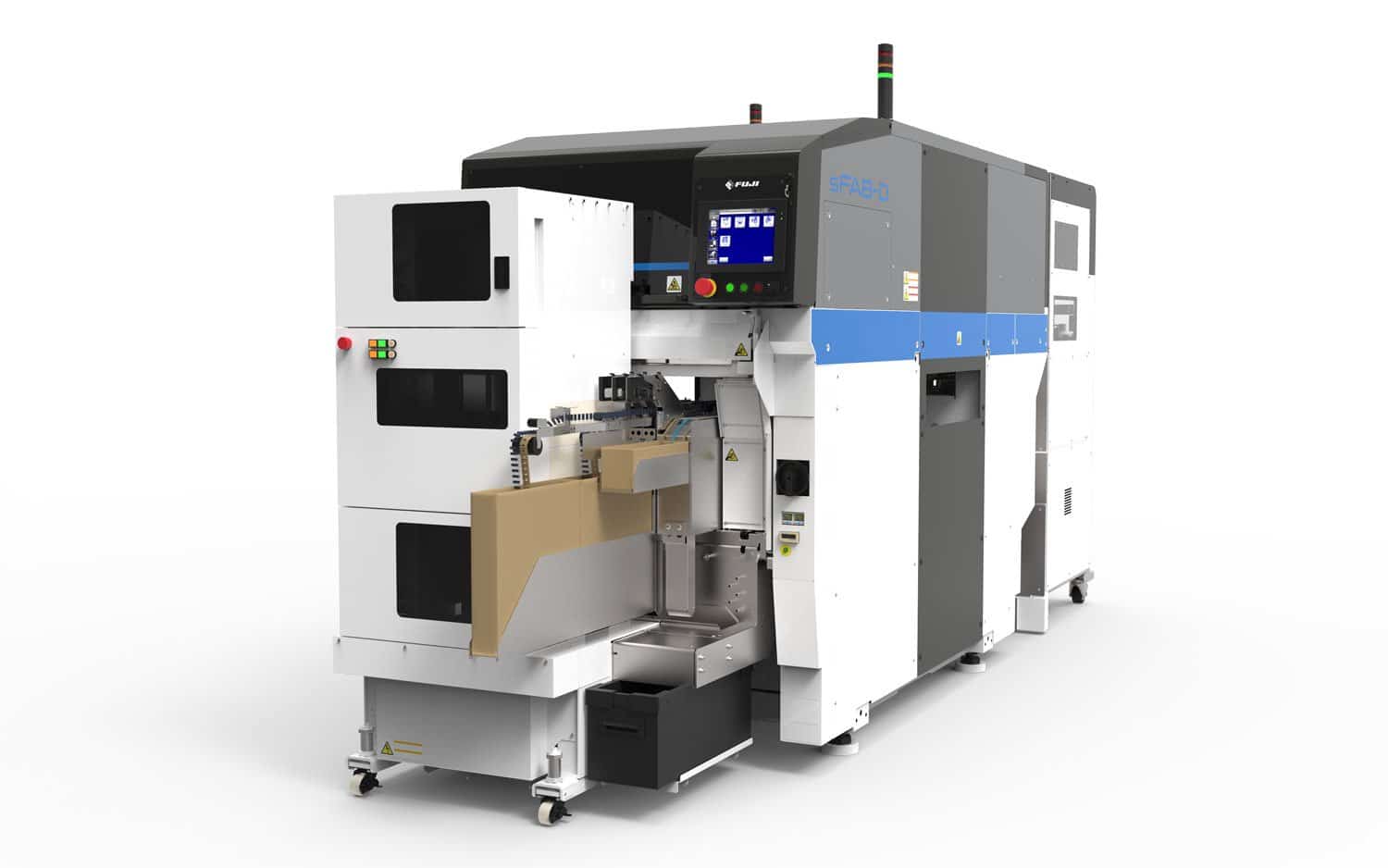 Zollner Elektronik AG automates THT assembly in the E3 business unit with sFAB-D from FUJI
Kelsterbach, June 7th, 2021 – Zollner Elektronik AG has set the course for the future. At the Romanian site Satu Mare, Zollner is integrating two state-of-the-art modules for the automation of THT assembly in the E3 business area. The sFAB-D placement machines with Cut & Clinch Conveyor from FUJI EUROPE CORPORATION (www.fuji-euro.de) ensure reliable processes, guarantee efficient line configuration and increase the output in the production of assemblies for industrial electronics.
Zollner Elektronik AG is a globally established service provider for Electronics Manufacturing Services (EMS) and the market leader in Europe. Zollner offers complex mechatronic solutions for various application areas and industries such as automotive, telecommunications, industrial electronics, data, railway and measurement technology, aviation and defense as well as healthcare and life sciences. The partner for process and system solutions supplies its customers with individual electronic components, modules, devices and systems.
Ferenc Fiausch, Sales Engineer at FUJI EUROPE CORPORATION GmbH, explains: "At Zollner Elektronik AG, an automated solution in the area of THT assembly – Through Hole Technology – was required for the electronics production E3S in Satu Mare in Romania. In the manufacturing process of THT assembly, the connection wires of the components are inserted into the corresponding vias on the circuit board and then soldered. This push-through installation is extremely complex if done manually. "
In order to gain efficiency in this process and to be able to meet increasing customer needs and constantly new requirements, Zollner chose the sFAB placement machine from FUJI. FUJI EUROPE CORPORATION GmbH is an international operating specialist for electronic placement machines. The German branch of FUJI CORPORATION distributes sFAB-D and other assembly machines for the European area.
Efficient process automation and more security
Two sFAB-D machines with Cut & Clinch Conveyors are now used in the Zollner production line in Satu Mare. The company is thus able to automate processes efficiently, adjust the type or quantity of production with a flexible line configuration and achieve quality and delivery improvements for every production process. Recurring costs can also be reduced in the long term.
The sFAB-D with Cut & Clinch Conveyor enables Zollner to handle assemblies without errors. The placement modules are equipped with a clinching tool, which among other things increases the safety when handling the assemblies. The placement modules are currently operating as a stand-alone line. In the medium term, they are to be combined as an inline solution with an existing soldering system. In order to automatically collect trace data in the future, it is also planned to be integrated into the Manufacturing Execution System (MES).

Sascha Frieling, Technology Manager at FUJI EUROPE CORPORATION GmbH, says: "One of the goals of Zollner Elektronik AG was to increase production output by investing in our sFAB-D line, to reduce costs and maintain the quality standard. This has been achieved. Furthermore, the company is now able to keep all processes and costs transparent and measurable."
/wp-content/uploads/2021/06/FUJI_sFAB-D.jpg
938
1500
Winter_Agentur
/wp-content/uploads/2020/11/FJS2_SE_C2_RGB_V2.svg
Winter_Agentur
2021-06-08 10:14:31
2021-06-08 10:14:32
Increase output with high quality and cost reduction – transparent and measurable