Scalable pick-and-place machines from FUJI reach record number of installations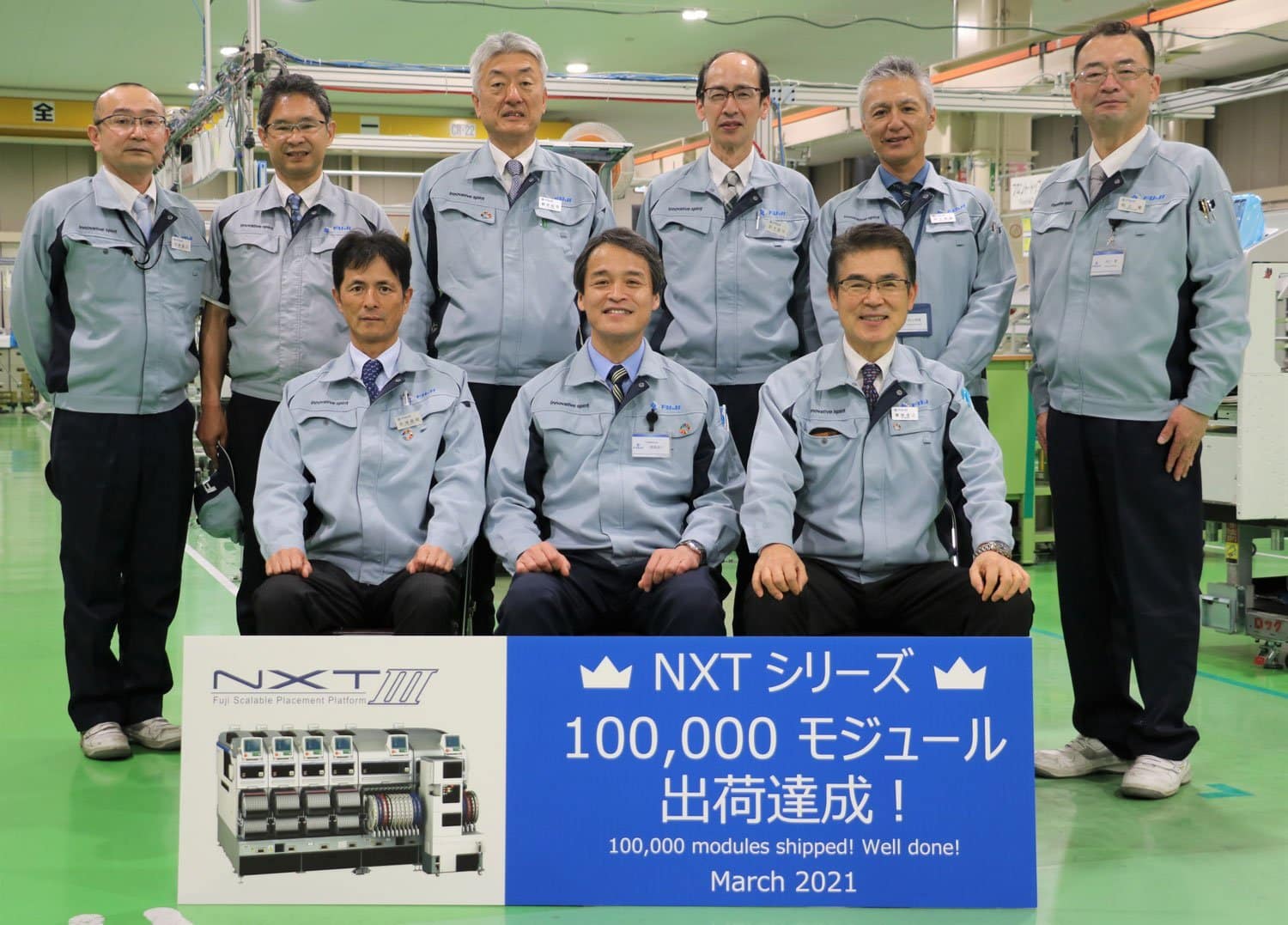 FUJI sets milestone with 100,000 delivered Modules of the NXT pick-and-place machine series
Kelsterbach, June 14, 2021 – FUJI CORPORATION has recorded 100,000 installed modules of its placement machines series NXT. The multifunctional pick-and-place machine in its latest generation is especially designed for very high speed and positioning accuracy. In Europe, the modules are distributed by FUJI EUROPE CORPORATION (www.fuji-euro.de). In favor of flexibility, modernity and scalability, FUJI's NXT series is constantly being developed and adapted to all new kinds of production types and technologies.
The market launch of the scalable placement platform took place in 2003 with the first generation of the NXT. In order to meet the constantly changing customer requirements and new technology developments, the NXT is continuously being further developed. In 2008, FUJI reached the next stage of development with the NXT II. In 2013, the company introduced the NXT III, which is particularly designed for productivity, placement quality and user-friendliness, and in 2020 launched the SMT platform NXTR for automated electronics manufacturing.

New record in installations of the modular placement platform
Between 2003 and 2015, 50,000 NXT modules were installed worldwide. By March 2021, FUJI could double the sales figure and thus reach a new milestone. The NXT modules are used in Europe, the USA and on a grand scale in the Asian region, with the majority of the 100,000 installed modules corresponding to the NXT III expansion stage. The NXT series is used in around 60 countries around the globe.
FUJI EUROPE CORPORATION GmbH distributes the NXT series for Europe The specialist for electronic placement machines covers all areas of modern production with its portfolio: from highly flexible placement systems in high-mix to complete placement lines in high-volume.
Klaus Gross, General Manager of FUJI EUROPE CORPORATION GmbH, explains the strong increase in installation numbers, especially in recent years: "Our placement systems of NXT series meet current SMT requirements such as short changeover times and flexibility, but also increasingly automated, digitalized processes. They are thus adapting to the needs of smart factories."
The NXT III module is particularly in demand in the increasingly digitalized factories. For example, the NXT III is used in the production of mobile devices, wearables, automotive products and server computers. The module also supports processes ranging from prototyping to variable mix and variable volume production.
"In production, the time factor is playing an increasingly important role. Our multifunctional modular pick-and-place machine in third-generation is therefore particularly designed for speed. It supports the smallest parts used in mass production with extreme positioning accuracy. This meets the new requirements on the market," says Klaus Gross.
/wp-content/uploads/2021/06/FUJI_100000_Module_NXT_2.jpg
1000
1500
Winter_Agentur
/wp-content/uploads/2020/11/FJS2_SE_C2_RGB_V2.svg
Winter_Agentur
2021-07-01 12:02:23
2021-07-01 12:02:24
Scalable pick-and-place machines from FUJI reach record number of installations