Press information productronica 2017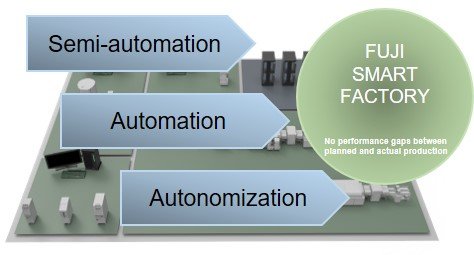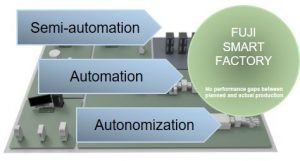 Fuji, expert in the field of assembly systems for the electronics industry, ranks among the technology and innovation leaders in the manufacturing of electronic assemblies. FUJI MACHINE MFG. CO., LTD., was founded at the very end of the fifties and is headquartered in Japan with achievements in all relevant emerging markets as a globally active manufacturer of assembly systems with machines for the assembly of SMD components in the high speed range, or even in the field of highly flexible placement, and appropriate software planning tools. As a partner with more than 59 years of experience, Fuji presents innovative production solutions that set standards.
In the age of globalization and changing market conditions, demand for products is becoming more and more diverse and complex. The aim of the Fuji Smart Factory is a production environment in which manufacturing plants and logistics systems largely organize and communicate without human intervention. In this model, flexible manufacturing is created that can adapt to changing user requirements, thus increasing productivity through optimization.
To strengthen the Smart Factory, Fuji acquired Tower-Factory GmbH as a complete subsidiary in March 2017. Amid of the growing demands on factory automation, the smart operation and the optimization of the procurement logistics in particular, is to strengthen with the help of an automatic production supply storage of particular interest. The goal is to strengthen the market presence and to offer greater value for the Smart Factory.
In addition Fuji is expanding into new markets with products based on robot technology. As of April 2018 the head office will operate with new name: FUJI CORPORATION.
2018 marks the year that his company will have been in business for 60 years and thus celebrates the next era.
At productronica 2017, Fuji will be presenting over 500 sq.m. several placement machines plus automation tools in a High Tech Area as well as the Smart Factory in form of a live production on a complete production line.
Take advantage now of the opportunity to experience the latest developments and innovation from Fuji live at the world leading trade fair for electronics manufacturing:
productronica 2017 / November 14th-17th, 2017 in Munich
Hall A3, Booth 317:
"Fuji Robots Lead The Way"
/wp-content/uploads/2017/10/Fuji-Smart-Factory-V3-HP.jpg
255
474
Sofia Fountoukidou
/wp-content/uploads/2020/11/FJS2_SE_C2_RGB_V2.svg
Sofia Fountoukidou
2017-10-05 10:05:06
2017-10-16 16:30:28
Press information productronica 2017