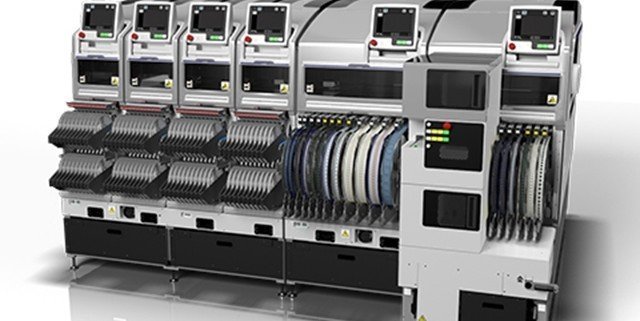 NXT III Wins Prestigious Japan Robot Award
Fuji's Scalable Placement Platform NXT III has been announced as the winning robot in the 6th Robot Awards, a competition organized by Japan's Ministry of Economy, Trade and Industry (METI) and the Japan Machinery Federation which was created to recognize the most outstanding robots for their present and future potential contribution to creating new markets.
To receive this award in a country renowned for its advanced robot technology is an extremely proud honor for Fuji.
The NXT III is an electronic component mounter featuring a modular design and heads which can be easily exchanged based on the size of components to be mounted, thus maintaining high productivity of the equipment at all times. The NXT III uses automatic correction technology such as image capture and image processing to achieve high overall system accuracy, and is a showcase for Japan's high-level production technology, commanding at least a 30% share of the global high-speed, high-accuracy mounter market.
Even though more than 10 years have passed since the initial release of the NXT series, the modular concept has lost none of its appeal and continues to receive acclaim from customers around the world.
The winning NXT III will be on display at Japan Robot Week 2014, which is being held from October 15 at Tokyo Big Sight (Tokyo international exhibition center). A demonstration of the NXT III mounting the latest ultra small 0.2 x 0.1 mm components will be performed at the exhibition.
We hope that you can take this chance to see the advanced concepts of the NXT III being put into action.
Fuji will continue to develop machines which meet our customers' needs head on.
/wp-content/uploads/2015/02/NXT3.jpg
480
640
Winter_Agentur
/wp-content/uploads/2020/11/FJS2_SE_C2_RGB_V2.svg
Winter_Agentur
2015-03-21 13:39:55
2015-08-18 09:49:37
NXT III Wins Prestigious Japan Robot Award