New era: FUJI EUROPE introduces placement with AIMEXR for the first time at SMTconnect 2023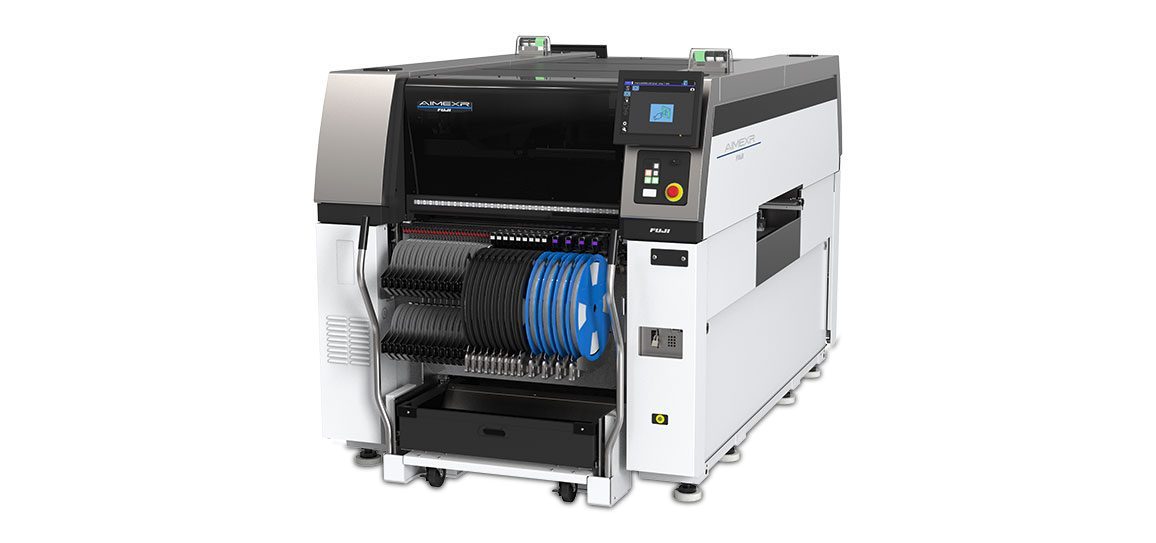 20 percent shorter cycle time, reduced en-ergy consumption and new real-time sensor technology for high placement quality
Kelsterbach, March 29th, 2023 – Complexity and customization in SMT production are increasing. At the same time, short response times are required. These and other challenges require highly flexible production support in placement. FUJI EUROPE CORPORATION GmbH (www.fuji-euro.de) has developed the AIMEXR all-in-one placement machine for this purpose, enabling, among other things, short cycle times, real-time sensor technology for improved placement quality and reduced energy consumption. FUJI will showcase the new solution at "SMTconnect 2023" in Nuremberg, Germany, from May 9-11 (Hall 5, Booth 430).
"In electronics manufacturing, being able to respond dynamically to short-term changes in priorities is crucial to competitiveness. Be-cause in many industries, manufacturing companies are subject to rapid change due to constantly changing customer needs and market conditions. Production and intralogis-tics processes must be designed for versatili-ty. Our new AIMEXR all-in-one placement machine aims to support agile manufactur-ing," explains Stefan Janssen, Managing Director of FUJI EUROPE CORPO-RATION GmbH.
FUJI presents this new placement machine for the first time at SMTconnect to the Euro-pean public. The AIMEXR can flexibly adapt to production requirements: from new product introduction (NPI) to mass production.
Focus on speed, agility and energy
The new placement solution from FUJI ad-dresses several key challenges in SMT pro-duction: The reduction of energy consump-tion, customization and flexibility as well as speed and efficiency.
The AIMEXR achieves fast placement with 20 percent shorter cycle time – and this with the highest quality, supported by new real-time sensor technology. In combination with the latest placement heads, high-performance placement is ensured. This results in high throughput and accuracy in production. In addition, the solution enables uninterrupted operation. At the same time, it reduces energy consumption by around ten percent compared with predecessor solutions.
"The energy crisis has initiated a rethinking process in industry. For a long time, high energy consumption was taken for granted. Now energy savings are at the top of the agenda. And not just for cost reasons. Climate change – and the associated carbon footprint – has clearly come into focus, and electronics and component manufacturing is becoming increasingly green. FUJI has set itself mid-term environmental goals, such as introducing energy-efficient machines and sourcing CO2-free electricity, among other things," says Stefan Janssen.
Automatisierung ist gefragtAutomation is in demand
In addition to the AIMEXR, FUJI will present further solutions at the trade show. These are used for the automation, monitoring and control of processes and address both medi-um-sized businesses and corporate groups.
Among other things, interested visitors will gain insights into the functions of the NXTR-A Smart Factory platform. The platform shows how to achieve zero placement errors, zero machine stops, and autonomous and opera-tor-free operation. NXTR-A features an auto-matic conveyor change system. This frees operators from changeover and supply work. Additional functions provide relief and auto-mation. In addition, the solution is easily scalable, supporting growth by preventing the need for additional staff.
Process efficiency is also supported by the sItower Various 773 SMD storage system. This system is capable of accommodating 773 individual SMD reels from 7″ to 15″ and can be expanded to a capacity of up to 1,070 SMD reels via goods carrier boxes. In addition, the design of the tower's 7″ and 13″ storage locations can be individually configured in terms of diameter and belt width.
As machines in the modern factory are software-driven, FUJI will demonstrate at SMTconnect the benefits of using NEXIM software. The production system integrates the functions of the production cycle (Plan, Do, See) for reliable planning and changeover support, flexible data management and the maintenance of high operating rates and quality.
FUJI and Fraunhofer address sustainability
People, processes and systems must work together optimally in modern SMT produc-tion. This meaningful interaction also results in sustainable effects for companies. How the CO2 footprint can be further reduced and a sustainable supply chain can be achieved is the focus at Fraunhofer IZM's booth 434A in Hall 5, where FUJI is represented as a partner with the Smart Factory platform NXTR-S and the SMD storage system s|tower Various 930.
/wp-content/uploads/2023/03/AIMEXR_01_2302.jpg
543
1156
Winter_Agentur
/wp-content/uploads/2020/11/FJS2_SE_C2_RGB_V2.svg
Winter_Agentur
2023-03-29 14:19:30
2023-03-29 14:20:19
New era: FUJI EUROPE introduces placement with AIMEXR for the first time at SMTconnect 2023